"Gross Domestic Product" The Homewares Store from Banksy
The one and only Banksy is back with "Gross Domestic Product", the homewares store from the British artist that opened in Croydon, London.
A postcard company's attempt to take over the trademark to Banksy's name led the anonymous artist to create a new project designed to protect the rights to his name—with the larger goal of supporting asylum seekers' rights. The shop will be open for two weeks as a way to satisfy the UK legal system that he owns and uses his trademark.
"Banksy is in a difficult position," his lawyer told The Guardian. "Because he doesn't produce his own range of shoddy merchandise and the law is quite clear—if the trademark holder is not using the mark, then it can be transferred to someone who will."
All proceeds from Gross Domestic Product's sales will go toward a new migrant rescue boat to replace a Spanish NGO's ship, Open Arms, that was confiscated by Italian authorities last year after it docked in a port carrying more than 200 refugees.
"The proceeds from these products will go towards buying a new migrant rescue boat," Banksy said in a statement. "So you may well be committing a criminal offense by purchasing them."
The items on display in the storefront include a disco ball made from a police helmet, a toy including figures representing migrants and a truck for children to place them in, and a stab-proof vest.
Several editions will perhaps be available for sale at some point, yet details appear to be unclear.
The non-exhaustive list of items is:
Baby Mobile – Edition of 3
Rat Clocks – edition of 150
Early learning counting set – Unknown Edition
Goldfish – Edition of 15
Thrower – Unknown Edition
Rug – Unknown Edition
Duck and cover (set of 3) – Edition of 50
Axe – Unknown Edition
Stormzy Vest – Edition of 5 + 2 AP
Grappling Hook – Edition of 26
Tombstone – Unknown Edition
Clutch bag – Edition of 5
Ultra HD TV – Unknown Edition
Crockery – Unknown Edition
Banksy Paint – Unlimited edition
Banksquiat – Edition of 300 (grey) & edition of 200 (black)
Screwed up Morrisey poster – Open edition
Shredded Tee – Open edition
Balloon Tee – Open edition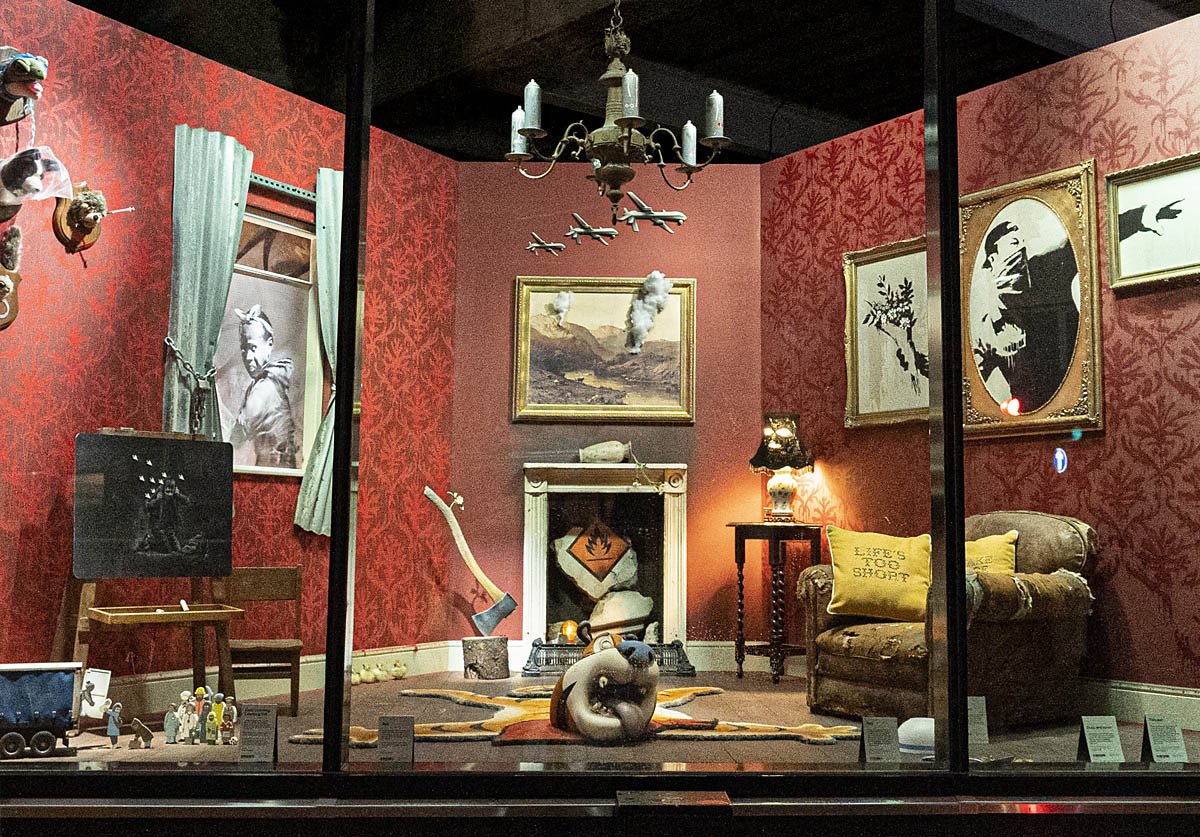 The post "Gross Domestic Product" The Homewares Store from Banksy appeared first on StreetArtNews.