scary basement > lovely studio
In early March 2019, I announced my plans to turn our 100 year-old quite creepy basement into a fully-functioning home studio. We've been in this house for almost seven years, and the "creepy basement" has only ever been used for storage / a home for spiders. I needed more space to work – as my pieces were going from small paper to larger panel – and this seemed like the smartest, most cost-effective way to make that happen. NOTE: I picked the cheapest paneling for the wall and ceiling that I could source! I also did all of the painting myself to bring costs down.
It's been six months since I said, "Stay tuned for photos". Okay, it took me a little longer than planned to put this post together, but can you blame me? I have a gorgeous new studio to play in every day!
Anywho, the day has come. These first few photos take you through the evolution from 100 year-old stone foundation and cobweb-covered fir beams, to almost done but not quite:
Gah! Yeah, that was a very exciting month. Poor Eric and John the two fantastic guys who made this happen… I was down there every hour or so "checking on the progress", especially during that custom desk build! She's a big, beautiful gal and I asked you guys, via Instagram, to name her. There were quite a few contenders, but I had to follow my heart and went with BROAD MAUD. Four feet deep and fourteen feet long … Broad Maud, indeed. Here she is in all her glory:
Oh my word, I love her so much. Now, as a hoarder of art supplies, I had a really fun time getting all set up down there. Eric and John made sure that Maud came equipped with shelves for paper, tools, and other random bits of stuff, and since she's so big up top it's ok, she's not offended by that, I have lots of space for brushes, lamps, trays, and a bit of artwork by other artists. During the build, while I was giving sneak peeks on Instagram, the lovely folks at Society6 swooped in and offered to add some art-covered accessories… um, I'm no fool so I said, HELL YEAH:
Boob mugs, badass trays and stylish cutting boards! And, yes, my Creative Juice XXX jug by Canadian artist Susannah Montague is in the middle of everything, right below a ceramic portrait American artist Amanda Smith made for me. Being surrounded by the work of other artists always fuels my creative mojo… that must be 'the jealous curator' in me.
Now, while I love Broad Maud, sometimes I need to sit down, relax, flip through old books and, let's be honest, take the occasional nap. While I'm sure Maud would be happy to accommodate, I'd be worried about splinters. So, since this previously scary basement is kinda gigantic, I reached out to my interior design friends and fellow art-lovers, The Novogratz, to see if their furniture line could help add a cozy factor to my new space. I'm not sure what I was expecting, but I know for sure I didn't expect desk lamps basements are dark, a HUGE area rug concrete floors are cold, and a super cozy sectional sofa sometimes a girl needs to watch Netflix. Check this out:
WHAT?! I know. They're a really nice family. Thank you, Robert and Cortney! Hm, I just realized I haven't named the couch yet. Any thoughts? Cozy Carol? Anyway, the throw pillows, floor pillow and blanket also a key part in studio-napping are from Society6. Every item I picked from them features the work of a different artist but, clearly, I decided to keep a black and white theme going – a nice contrast to the colorful paint all over me and Broad Maud.
Now, I'm sure you think we're finished, but nope. This space wouldn't be "me" without at least one reference to my favorite movie of all time: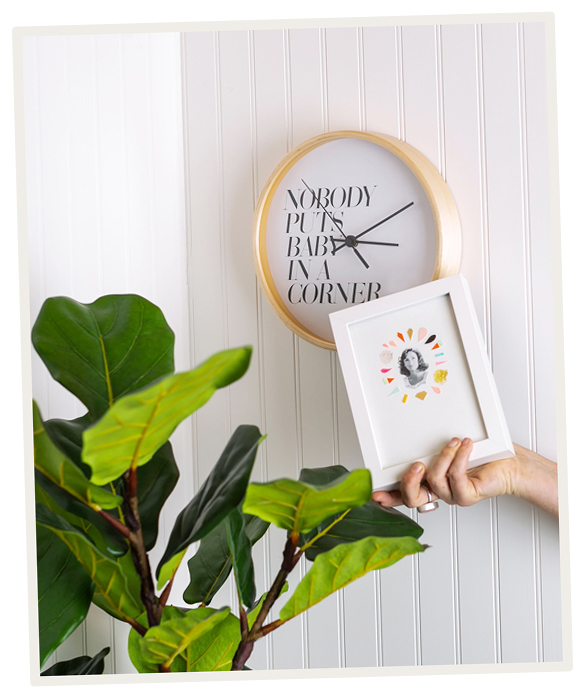 And I put it in a corner! Ahhh, good times.
Okay, that's it. If you're still reading, I'll finish off by saying I totally know that I'm hashtag blessed to have had enough space in my house to pull this off, and I'm super grateful to Society6 and The Novogratz for helping turn a cold, spooky place into a warm, creative studio. I'm gonna wrap up this realllllllly long post with a photo of me getting all zen in the backyard. This is where I go when I'm feeling overwhelmed and just need a bit of fresh Canadian air to clear my head… well, unless of course I'm napping:
Om. Zzzz…
*The photos except my iPhone "in progress" shots are by Stephanie Seaton of Unlimited Vision. Thanks Stephanie!