"too old, too young, too busy"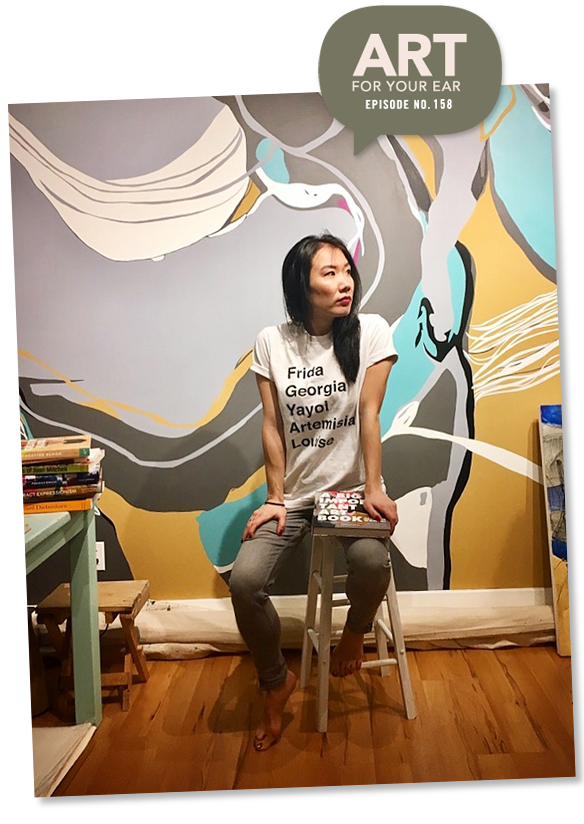 Yep, "I'm too old / too young / too busy"… that's just one of the bits of bullshit we'll be discussing during the very first installment of "Pennylane Calls Bullshit". If you know artist consultant/magical guide Pennylane Shen, you'll know she's a smart, funny, straight shootin' kind of gal. She's here to call out some of the excuses, or lies, artists tend to tell themselves. Oh, and we're also going to talk about TV because that's just what we do when we're together. You can listen right up there under Pennylane in the studio of Marlene Lowden wearing a shirt by Art Girl Rising, while holding … wait… oh, would you look at that … it's my book! –  or subscribe on iTunes.
First, Pennylane looks at A LOT of art, and I love the pictures of her looking at that art:

Oh look, there's Jamie Smith from Thrive too! See, they both love art so much that they jump around it in whenever they can.
Up next, a tiny peek at Pennylane in action. Enter Dazed & Confucius:
Okay, this is just in here to make sure you have her contact info in case you want to do a consultation with her! She has quite a waiting list, so get on it ASAP if you're interested.
Aaah, yes… more art. Here are the three artists Penny mentioned she was loving these days:

Malaysian artist Sheena Liam, aka TimesNewRomance. You might recognize these images because they're from a post I wrote about Sheena the second Pennylane sent me a link to her work. Gorgeous!
Next, Korean artist Lee Jin Ju:
Gah! Ridiculously good.
And finally, Canadian artist Marigold Santos:
See? Pennylane has amazing taste… in both art AND TV!
Haha! I couldn't resist. Thank you so much to Pennylane for calling allllll of the bullshit – both the little pellets and the big steamers! Thanks to both Thrive check out Mastermind and Create Magazine submit before Dec 2 for supporting this episode. Thank you to my Charlie for showing up and talking about Roy Lichtenstein's artwork, "In The Car" … although we may retitle it "Leroy kidnaps Janet" … and of course, as always, thank you so much for listening. ~ Danielle
Other Links:
Pennylane on Instagram
Ben Skinner: Artist
Creative Block: Book
Amelie: Movie
The Good Place: TV
Lodge 49: TV
Mindhunter: TV
True Detective: TV
Sharp Objects: TV
Handmaid's Tale: Yes, more TV
Thrive Mastermind Program
createmagazine.com/callforart This is the right link – I said it wrong in the intro!